Lidia Borisovna Kisteneva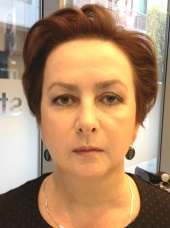 Chief of the Laboratory for Epidemiology, Prevention and Diagnostics of Viral Hepatitis.
She graduated from the Second Moscow Order of Lenin State Medical Institute named after N. I. Pirogov in 1983 in the field of Pediatrics.
Since 1987, she has been a fellow of the D.I. Ivanovsky Research Institute of Virology of RAMS (Resident Physician, Junior Research Fellow, Research Scientist, Senior Researcher, Lead Researcher, Laboratory Chief). In 2011, she defended the dissertation on the topic: "Clinical Laboratory Specifics of Cytomegaloviral and HC Virus Infections with Pregnant Women and New-Born Children. Development of the System of Therapeutic and Preventive Measures" in candidacy for the degree of Doctor of Medicine. She is the author of 120+ scientific publications summarizing the materials on completed studies.
She is engaged in clinical and scientific activities, studies the problems of perinatal infections (viral hepatitis, herpes virus infections). She has the highest medical qualification grade in the field of Infectious Diseases, awarded with the Certificate of Honor of RAMS, the Certificate of Honor of the RF Ministry of Health and Social Development.