Elena Ivanovna Isayeva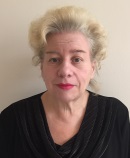 Elena Ivanovna Isayeva was born in Moscow in 1946.
In 1971, she completed a higher education program in the specialty of Human and Animal Biologist and Physiologist in the Moscow State University named after M. V. Lomonosov. From 1964 to present time, she has worked for FSBI "D. I. Ivanovsky Research Institute of Virology" of the Ministry of Health of Russia at the Immunology Laboratory, successively developing from Research Technician to Lead Researcher. Since 2016, she has headed the Immunology Laboratory of the Arboroviruses and Pilot Production Department.
In 1976, she completed a candidate's dissertation on the topic: "Immunogenic Activity of Influenza Virus Depending on Hemagglutinin and Neuraminidase" in the field of Virology (03.00.06), In 1978, she was awarded the title of Senior Researcher.
The main field of scientific interest is connected with the problem of immunology of infectious human and animal diseases – influenza, the new respiratory viruses of metapneumovirus and bocavirus and constantly circulating rhinoviruses, coronaviruses, the respiratory syncytial virus, as well as Hepatitis C. Another object of research interest of E.I. Isayeva is study of antiviral properties and toxicity of artificial ribonucleases based on Ag complexes, peptidomimetics and diazabicyclooctane, interferon inducers of ingavirin and other drugs in vitro and in vivo in respect of influenza viruses, ARVI and tick-borne encephalitis, with development of new experimental models for preclinical study of antiviral and immunomodulating drugs, study of mechanisms of their impact on human and animal cellular and humoral status.
E.I. Isayeva participates in qualification of academic staff, leading a team of research scientists and assistants and training them in virology and immunology research methods. 2 candidate's dissertations have been defended under the supervision of E.I. Isayeva.