Taras Ivanovich Aliper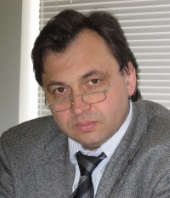 Taras Ivanovich Aliper, Doctor of Biological Sciences, Professor, Head of the Application Virology Department.
Taras Ivanovich Aliper graduated from the Veterinary Department of K.I. Skryabin Moscow Veterinary Academy.
After graduation, he worked as a veterinary in the All-Soviet Union Research and Process Institute of the Biological Industry of the Ministry of Agriculture of the USSR and then served in the Soviet Army. From 1982 to 1984, he worked as a resident of the Chair of Epizootology of Moscow Veterinary Academy.
From 1984 to 1994, he worked at the Porcine Diseases Laboratory of the Y.R. Kovalenko All-Soviet Union Experimental Veterinary Research Institute Awarded with an Order of Lenin as a junior researcher, researcher, and senior researcher. In that period, he defended his thesis for the candidate of veterinary sciences degree on the problem of fighting swine transmissible gastroenteritis. He joined D.I. Ivanovsky Institute of Virology in 2000. The Specific Prophylaxis Department specializes in studying the biology of viruses, development of specific prophylaxis means, and diagnostics of anthropozoonoses.
In 2001, he defended his thesis for the doctor of biological sciences degree on the topic of Swine Transmissible Gastroenteritis: Development of Laboratory Diagnostics Methods and Specific Prophylaxis Means at the meeting of Specialized Council D 001. 020. 01 at D.I. Ivanovsky Institute of Virology of the Russian Academy of Sciences.
Taras Aliper is an author of more than 200 published works, including a co-author of 4 monographs, 14 patents, and inventor's certificates. He has been an academic supervisor of 7 candidate and 1 doctoral theses. Taras Aliper is a participant of the leading international and Russian veterinary and biotechnology congresses.
He has been actively participated in international projects implemented together with the following organizations: ARS, USDA: National Animal Disease Center, Ames, Iowa, US, ARS, USDA: Plum Island Animal Disease Center, New York, NY, US, ARS, USDA: Poultry Disease and Oncology Laboratory, East Lansing, Michigan,US, ARS, USDA: South East Poultry Research Laboratory, Athens, Georgia, US, Central Veterinary Laboratory, UK.
Taras Aliper has been awarded with a medal "In Commemoration of the 850th Anniversary of Moscow", acknowledgement letters and certificates of merit of the Ministry of Agriculture of the Russian Federation and the All-Union Academy of Agricultural Sciences (Russian Academy of Agricultural Sciences), medals and diplomas of the All-Union Exhibition of Achievements of National Economy (All-Russia Exhibition Center), and a diploma of D.I. Ivanovsky Award.